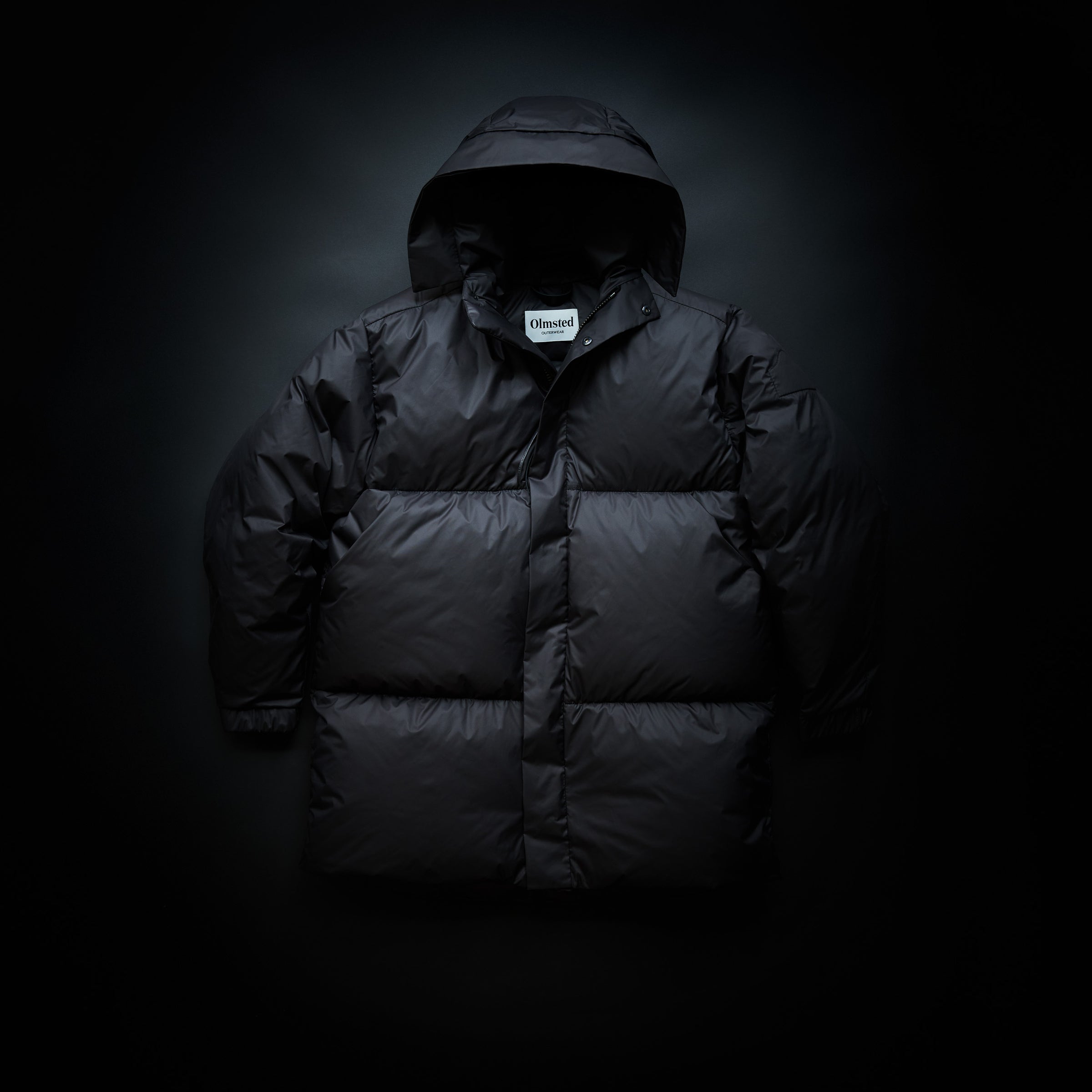 High in conscience, Utility conscious.
Form and function shouldn't be a choice.
That's  why we design super high-quality outerwear that looks as timeless as it actually is. 
We're pretty passionate about seeking the very best things -  that are also the very kindest things.
The rarest and warmest down on earth - Wild Canadian eiderdown. 
With insulating capacity so advanced that it adapts to the body's temperature, Eiderdown is the pinnacle of all down. A luxurious natural fiber, it's never farmed, always wild and resists the harshest conditions and natural selection.
Collected by hand from wild eider ducks' nests and harvested once a year (and available in very limited quantity) Eiderdown is understandably the rarest, highest-priced and most desirable down in the world. 
By wearing an Olmsted, you're breathing life into a supply chain infused with positive impact and one that gives back to land conservation and the protection of biodiversity. 
The more weathered our pieces, the better they get.
The special wax finish we use on all of our one-of-a-kind pieces naturally picks up marks and creases with use, so it looks better with age - adapting to your environment and lifestyle - much like the nature we're inspired by.
The wonder of waxed cotton
Our coats are meant to live with you - for all the living you plan on doing.
Weatherproofed in Scotland since 1864, our wax-based finishes are biodegradable, vegan friendly and are actually derived from natural by-products from the food industry. (Waste not, wear not!) This finish also provides extreme resistance to the elements, without PFOAs or formaldehyde, naturally.
one-of-a-kind pieces
Why waxed cotton?
Olmsted coats are made of premium waxed canvas weatherproofed the old-fashioned way.
Naturally breathable, the wax outers adjusts to ambient temperature to be softer/more breathable in warm weather and stiffer/more windproof in cold conditions.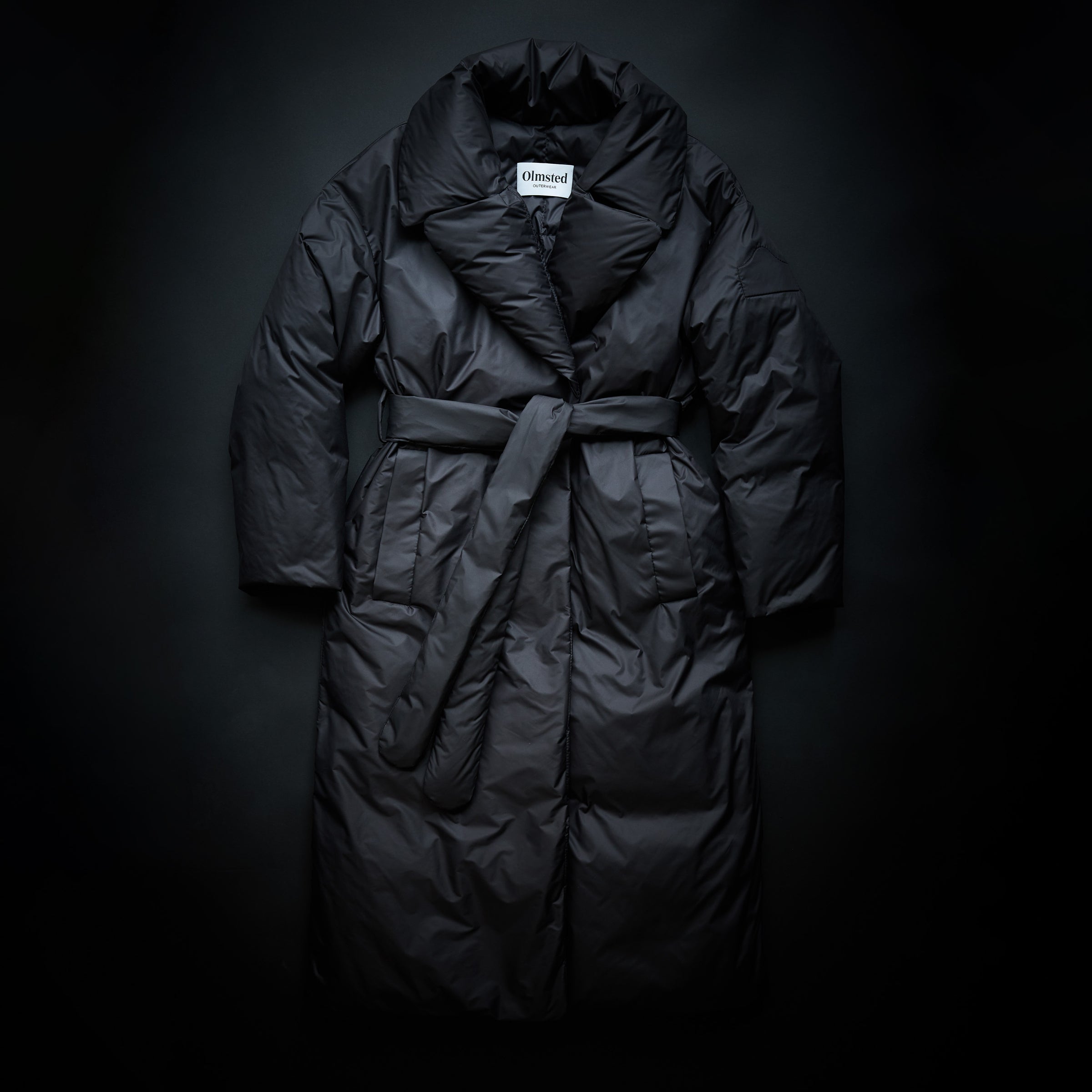 Upcycled nylon, regenerated nylon. Re-Nylon.
A little kinder, a lot lighter and feels amazing to slip on and off.
Olmsted's downproof & water repellent re-nylon is made from a unique yarn that consists of 100% recycled nylon. (which is essentially recycled fishnet plastic).
Recycled Nylon
Light and water repellent
The interior of all our eiderdown jackets is made of GRS-certified upcycled nylon woven in Como, Italy, in a mill where the production chain is highly controlled, optimizing the production process while reducing waste.  Using recycled plastic to create nylon keeps new plastic from being created.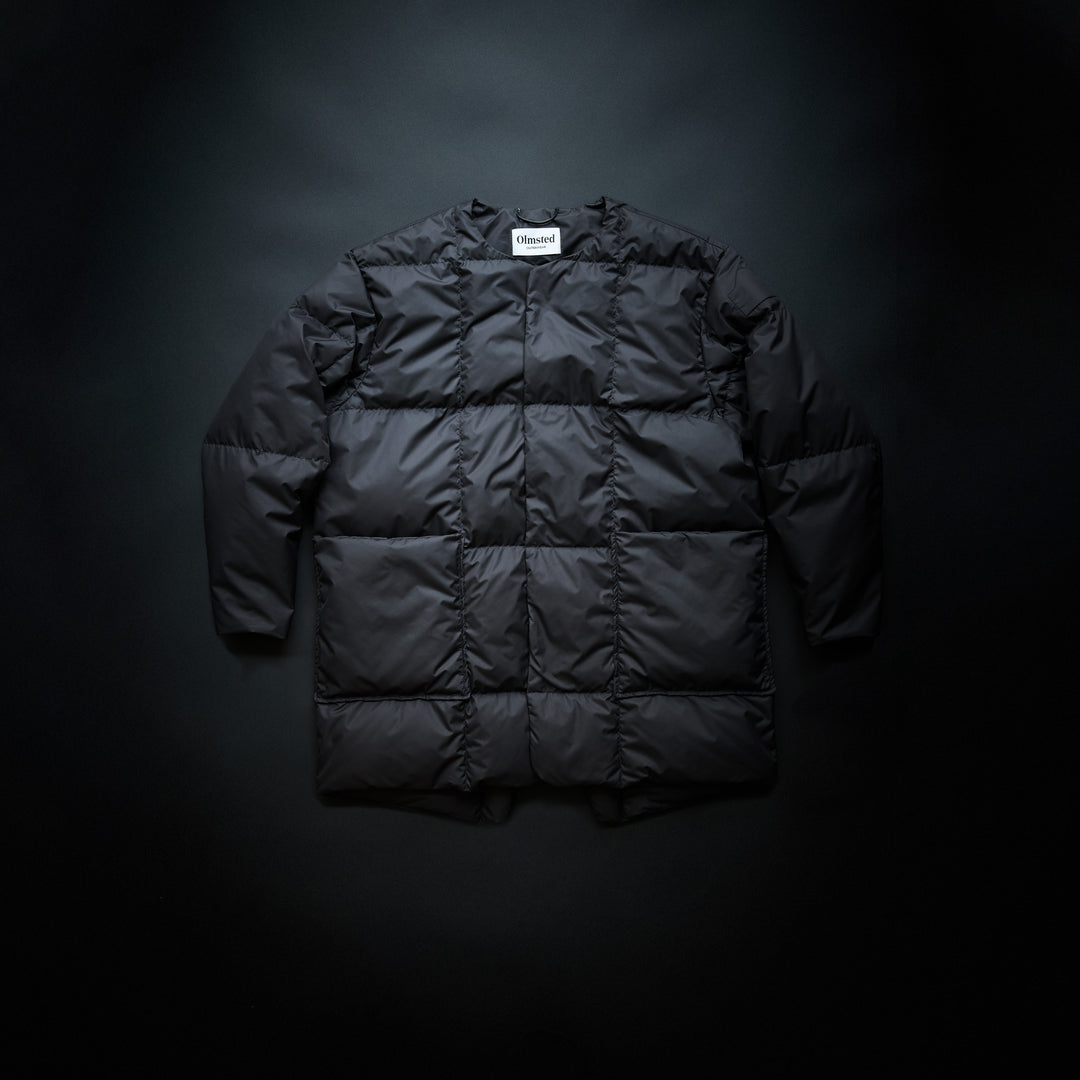 The Global Recycled Standard Certification
GRS is the certification that guarantees the recycled origin of the material used and the least possible environmental impact along the entire production chain, with great attention to ethical aspects. We use GRS Certified recycled yarn sourced from fishing nets, plastic bottles and other post-consumer recycled PET. 
Here's how upcycled nylon yarn is made : 
• Old plastic/nylon is gathered, sorted, and cleaned.
• A chemical depolymerization process re-purifies the old nylon. 
• The recycled materials are turned into regenerated nylon yarn through a polymerization process. 
Extreme weather calls for huddling together.
Olmsted's high-quality, N°10 metal nickel-free zippers are incredibly robust and custom-made in Switzerland by riri. Favouring long-lasting natural materials, our most reliable and sturdy hardware is made of durable brass, in a neat black copper finish that blends smoothly with Olmsted's clean aesthetic.
So let's explore. Take off.  Cozy up. Weather the slickest cities and the iciest coasts. Zip up, button down and wear nature's energy - stunningly.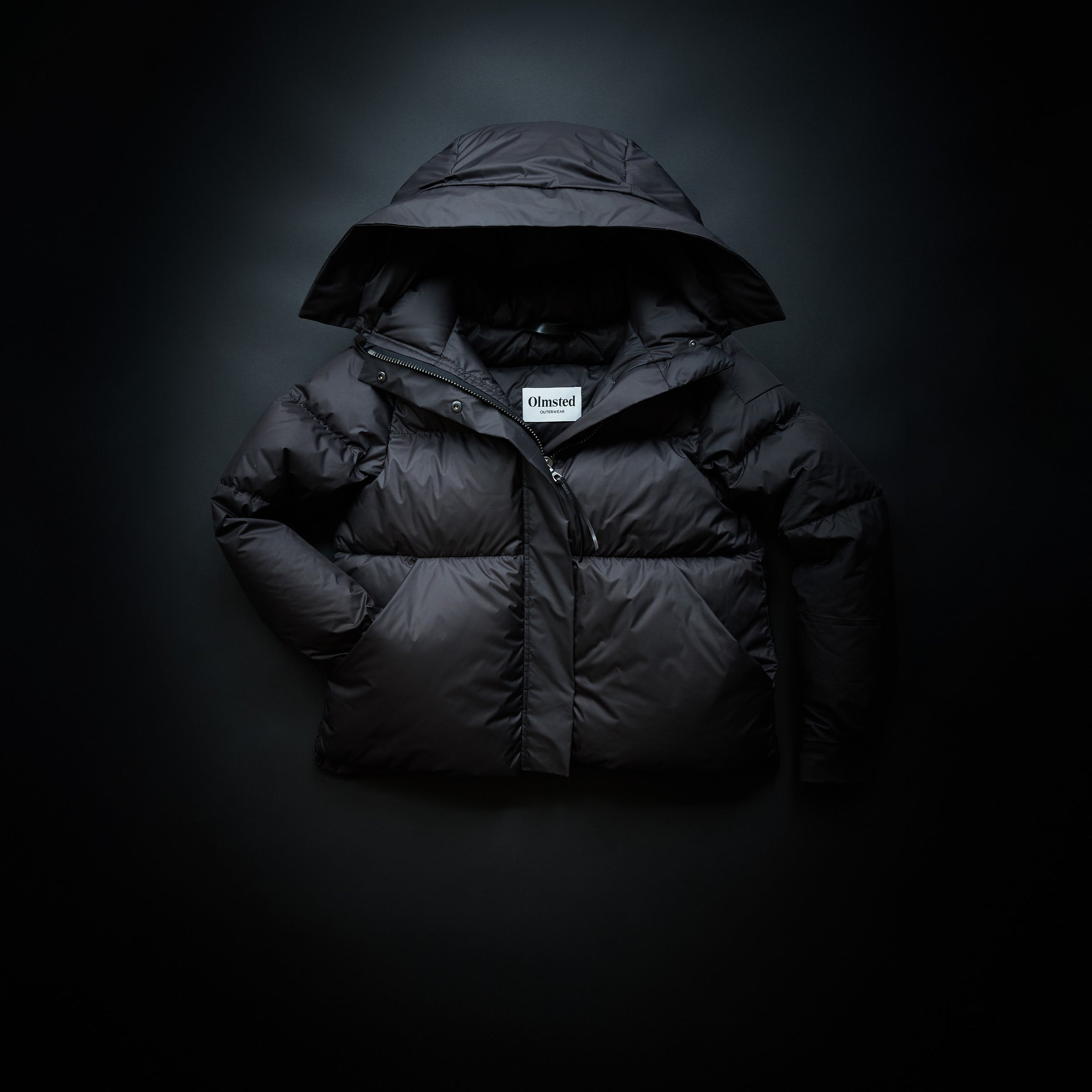 Robust N°10 metal zippers.
Nickel-free
Excellence in Details
Made in Switzerland by riri
Founded in 1936 in Mendrisio, Riri zippers maintains its production in Switzerland and remains committed to a manufacturing process based on ethical and sustainable practices.
The claim, "Excellence in details", which perfectly describes riri's approach always seeking beauty, innovation and quality, also stands for "Sustainability in details".  Meaning, being aware of the responsibility we have towards the environment, people and society.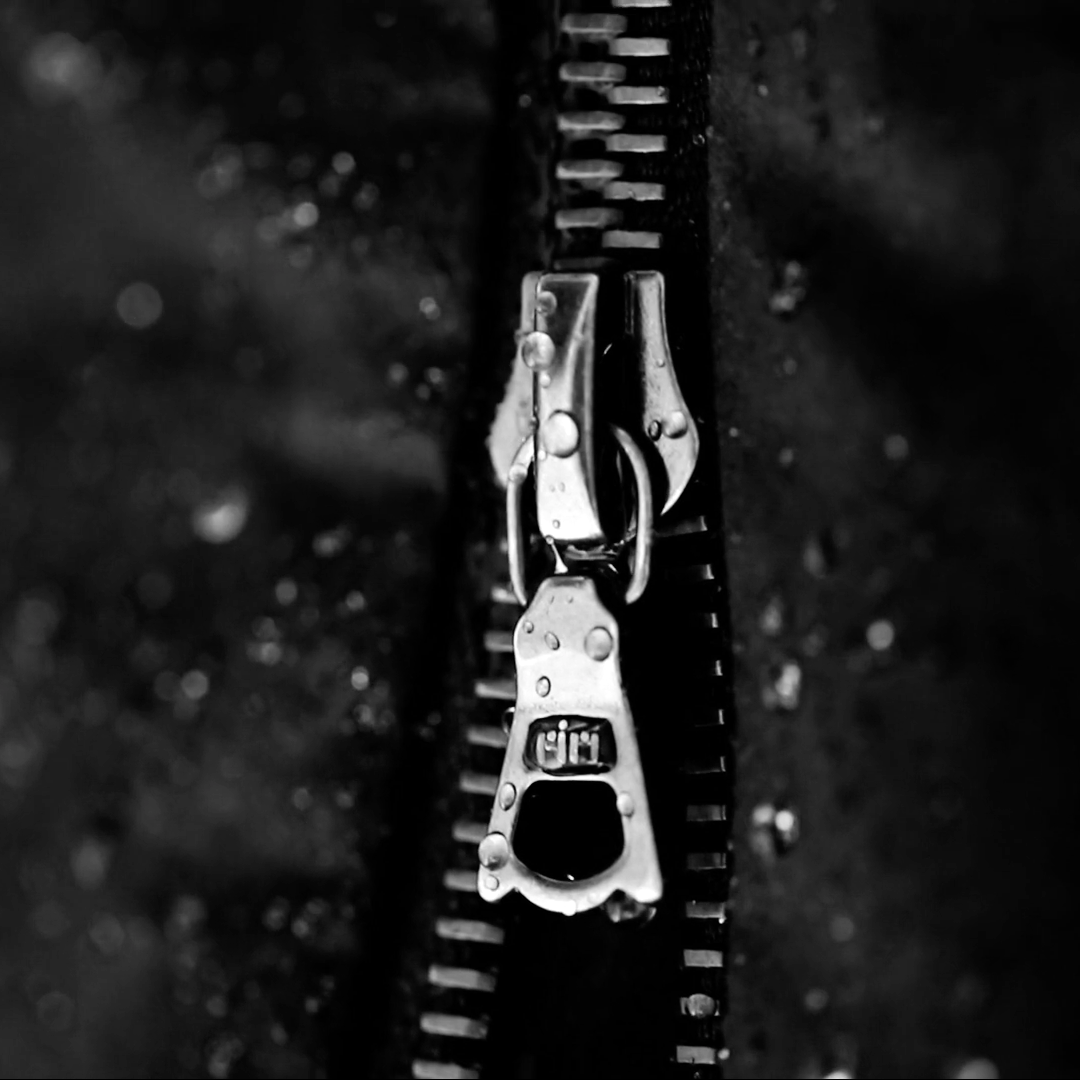 Made-to-order is the new luxury.
Made in Montréal
When we make just the right amount of pieces to satisfy demand, we're making sure we're only using the resources needed and not contributing to wasteful, over-production practices or excess inventory.  No waste means treading much lighter.
Plus, we think having a piece made just for you is pretty cool.  And super warm, of course.
Also, it is important for us to let our consumers know that all Montreal's workers are paid more than a living wage. Olmsted is very proud to respect the Global Living Wage (The remuneration received for a standard workweek by a worker in a particular place sufficient to afford a decent standard of living for the worker and her or his family. Elements of a decent standard of living include food, water, housing, education, health care, transportation, clothing, and other essential needs including provision for unexpected events)